Hibiya gourmet Festa 2019 spring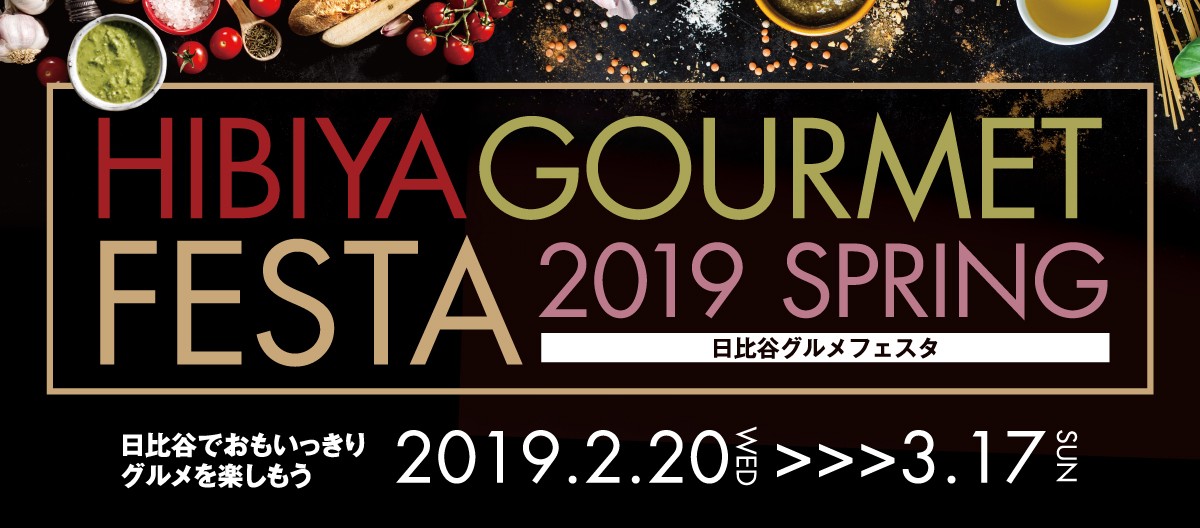 2019/2/20 from Wednesday to Sunday, March 17 Hibiya gourmet Festa 2019 spring
Let's enjoy gourmet with all one's might in Hibiya! We hold gourmet event using the whole area. Advantageous gourmet ticket which can enjoy meal for 5,000 yen 4,500 yen (1,000 sets of limitation). We eat, and let's go barhopping in Hibiya at this opportunity.
Period

2019/2/20 from Wednesday to Sunday, March 17
Inquiry

The Hibiya gourmet Festa administration secretariat (hipopotamasu)
03-6453-7670
Venue

Tokyo Midtown Hibiya, Hibiya chanter, Hibiya area store
Participation in great lottery is possible in stub of gourmet ticket. In addition, there is stamp rally which collects stamps for 5 stores, and can participate in great lottery.

On the night of Friday, FRIDAY NIGHT JAZZ event is held in Tokyo Midtown Hibiya "Hibiya step open space", too.
Please enjoy wonderful jazz performance.
[on the date]
2/22, 3/1, 3/8, 3/15
It is 00-1 stage 30 minutes 00 - /9 - /8 at 7:00 p.m.
※Tokyo Midtown Hibiya, Hibiya arcade is inner in rainy day (B1F); become held
[the number of the participation stores]
Midtown Hibiya 17 store in total
Total Hibiya chanter 12 store
Hibiya area 7 store in total
PICK UP EVENTS
Other events

2019/3/22 from Friday to Sunday, April 14

The first anniversary of the opening of Tokyo Midtown Hibiya event "TOKYO MIDTOWN HIBIYA 1st Anniversary"

Tokyo Midtown Hibiya reaches anniversary from the opening of business on Friday, March 29, 2019. In event to celebrate feeling and spring of thanks, "TOKYO MIDTOWN HIBIYA 1st Anniversary," we do gorgeous flower art to color the whole town and blockbuster movie "Bohemian rhapsody" and collaboration, and Aristrist of various genres holds live stages which play musical piece of <the queen>. We reach anniversary gorgeously.