ENVIRONMENTAL INITIATIVES
ENVIRONMENTAL INITIATIVES
Contributing to the environment through the reduction of heat load and the maintenance of green space
Tokyo Midtown Hibiya achieved the "S rank" in "stage 3 "of PAL • ERR of the Tokyo Metropolitan Building Environmental Planning System, and the CASBEE (Comprehensive Assessment System for Built Environment Efficiency) approval by establishing energy-saving facilities and highly efficient equipment, as well as the utilization of a gas cogeneration system and an exterior planning to reduce heat load. We also set up a sub-plant for district heating and cooling (DHC). By collaborating with the existing DHC plant in the Hibiya area, we produce a highly efficient energy supply throughout the district.
Furthermore, we aim to develop "Hibiya Step Plaza" and "Park View Garden," continuous with Hibiya Park. Approximately 2,000 square meters of green space with a 40% greening ratio.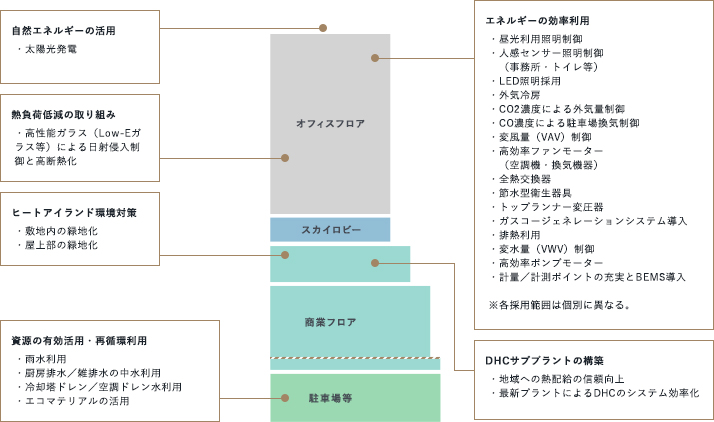 Tokyo Midtown Hibiya CO2 (greenhouse gas) emissions reduction
Regarding CO2 emissions, at Tokyo Midtown Hibiya, we are working to reduce CO2 emissions following the Tokyo Metropolitan Government's global warming countermeasures.